ESG Ranking in India with Sankar Chakraborty, ESG Risk AI | Sheetal Agarwal
Sankar Chakraborti, Chairman of ESG Risk AI and CEO Acuité Group share his views in an exclusive interview with IIFL. In this interview, he speaks on the need for standardization and development of models in ESG Rating, implications of BRSR guidelines on the corporate sector and ESG Risk AI's rating model.
ESG Risk AI unveils ESG Rating Methodology
ESG Risk AI – an Acuité Group Company, has unveiled its ESG rating methodology and made it available to all stakeholders creating transparency in the ESG assessment process. The methodology will enable the key stakeholders including corporates, asset owners, asset managers, retail investors and banks to understand the evaluation and scoring process of ESG risk.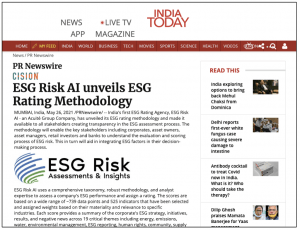 ESG funds: the irresistible combination of 'do good' and 'do well'
Mr. S S Mundra, Non-executive Chairman of Acuité Ratings & Research Limited and Former Deputy Governor of RBI writes in today's Mint on how ESG investment is becoming mainstream for investors and businesses
Acuité sets up India's first ESG rating company
Acuité Ratings is setting up a dedicated rating company for ESG (Environment, Social and Governance) opportunities. Christened as ESG Risk AI, it is supposed to be India's first ESG rating company. It will cover a company's ESG performance across three categories, 25 themes and 38 key issues.

Acuité launches India's first ESG rating company
Acuité Group has launched ESG Risk Assessments & Insights in order to assess a company's ESG performance and assign a rating. ESG Risk AI will provide ESG ratings of the top 1000 Indian listed companies, by evaluating their performance on ESG parameters as well as their reporting transparency. Its assessment approach includes identification of relevant risks, estimation of materiality and polarity of the risks, and evaluation of risk management framework.