Demand both: Investing responsibly and save the planet
It is just bad framing of the notion of trade-off between choosing to save planet and trying to make more money. Just by making smart investment choices we don't have to choose between the two.
It is about identifying companies that are being smart about the environment in ways that help them to grow their revenues, reduce cost and eventually add to the overall market share. In short, assessing and scrutinising through tons of data across different companies in order to figure out to have it both ways.
Up until now, the business strategies have been or perhaps still are disconnected from the environmental factors. It stares right in our face that the environment not only affects the company's business, but it affects you and me, the society, the common man.
Think about the organic food industry, which a while ago, seemed like a niche or something of a luxury but the end-customer demand has now pushed it to mainstream. Knowing the source of origin for the food we consume has become important. Similarly, the clothes we wear are they sustainably produced without violation of human rights has become crucial in consumer preferences. 
Top-League Funds gradually moving their Portfolio into Sustainable Investing
| Institution | Total AUM |
| --- | --- |
| | |
| | |
| California Teachers' Retirement fund | |
| | |
| | |
| | |
Environmental, social and governance (ESG) factors are fundamentally changing the game; the way businesses operate. People care, consumers demand. So, company can either adapt and succeed or be ignorant and fail.
Regulatory Developments in ESG Investing: Initiation → Development → Mainstream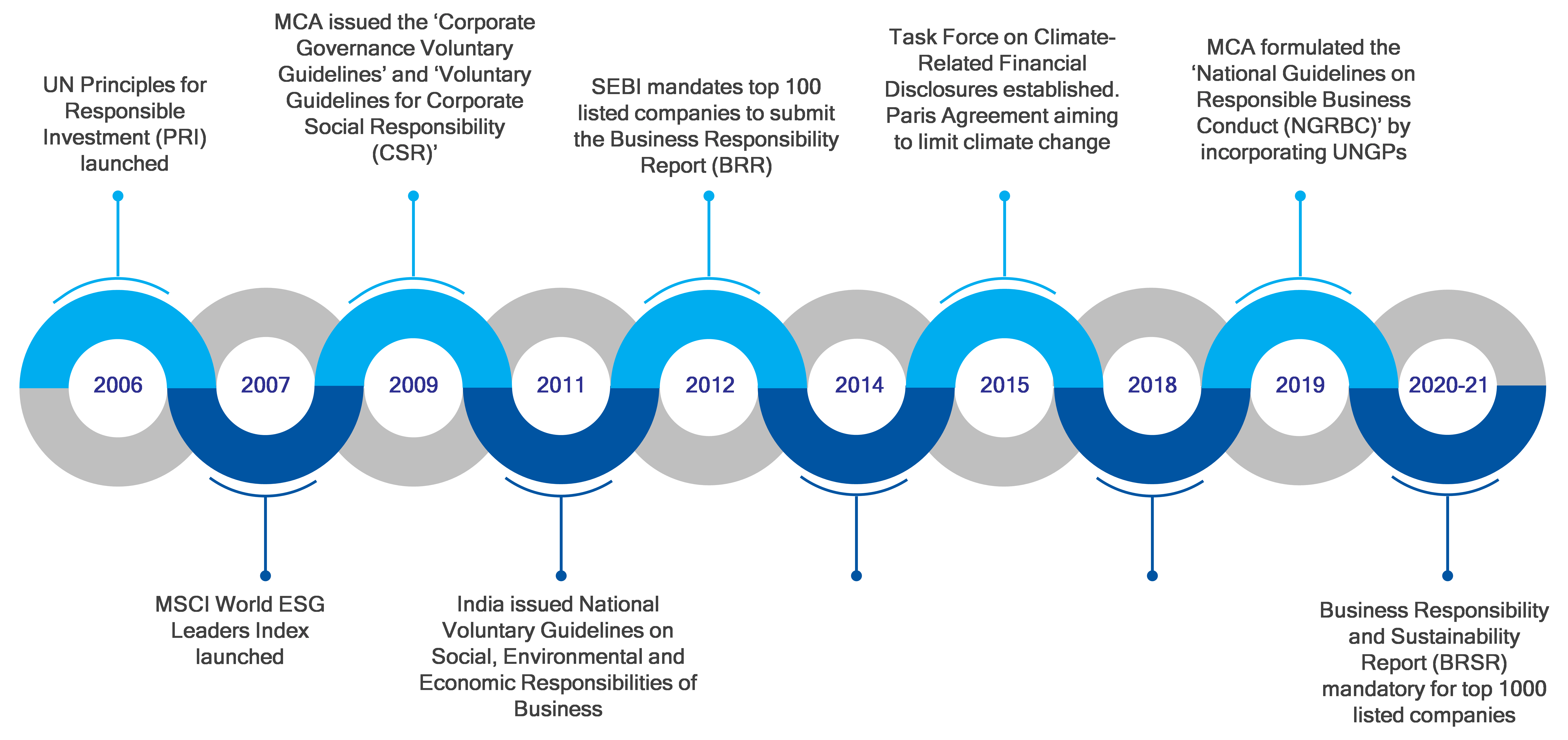 Source: Quantum Research, 2021
From an investor's perspective, it is important to screen out the winners who transform to do no harm to the environment. The companies which are not adapting are not just going to survive because this isn't just a trend, it's a paradigm shift. Good companies are going to find ways to comply with all the environment friendly factors and thrive. These companies are going to find ways to reduce their costs and risks on one hand and on the other hand, invest into synergies to innovate and grow further.
This conditioning of our minds to make a choice between environment and returns needs to change.  It is surprising to see compelling and long term investment opportunities at the intersection of the strong business performance and sustainability. However, the inherent conditioning of choice makes us shy away from even looking at these opportunities.
It is important for us to identify for our investors the companies that take into account qualitative and quantitative material aspects of the business that has a bearing on the environment and society. It is that list of companies which are ahead of the curve to incorporate sustainability and thereby, have a competitive advantage as against its peers.
No matter how much you are invested in a company making out-sized profits today, if that company is not managing its environmental and social risks and opportunities well, it is a matter of time that such companies can see their bottom line getting wiped off for being ignorant towards ESG factors.
It is high time to take a note that material factors on E, S and G are extremely interconnected to the business fundamentals and consequently to the shareholders value. ( Read more: Why ESG is here to stay)
As asset managers, it is our job to find companies which are consistently putting in investment and strategic intent towards developing their business sustainably. The resilience towards environmental and social risks comes over time; therefore, it is imperative to identify companies and channelize long term capital to back these smart companies grow responsibly and sustainably.
We all do individual efforts to safeguard the environment and society by planting trees, giving up plastics, helping the poor and needy and so on. However, when it comes to investing, we are still second guessing the idea of choosing responsible investing because of our inherent misconceived notion that it comes at the cost of compromised returns. It is time to recondition our traditional ways of investing and understand that sustainability is not an obstacle in the path of making money.
The way world is shaping today, it is an opportunity for you as an investor to choose "AND" over "OR". Investors can most certainly have it both ways. Like the companies that innovate and grow, you as an investor too can invest in such companies and reap benefits from the long term growth of the companies that are being consistently responsible and sustainable in their practise.
All of us can have it both ways and stop pitting profits against planet.
Disclaimer, Statutory Details & Risk Factors:
The views expressed here in this article / video are for general information and reading purpose only and do not constitute any guidelines and recommendations on any course of action to be followed by the reader. Quantum AMC / Quantum Mutual Fund is not guaranteeing / offering / communicating any indicative yield on investments made in the scheme(s). The views are not meant to serve as a professional guide / investment advice / intended to be an offer or solicitation for the purchase or sale of any financial product or instrument or mutual fund units for the reader. The article has been prepared on the basis of publicly available information, internally developed data and other sources believed to be reliable. Whilst no action has been solicited based upon the information provided herein, due care has been taken to ensure that the facts are accurate and views given are fair and reasonable as on date. Readers of this article should rely on information/data arising out of their own investigations and advised to seek independent professional advice and arrive at an informed decision before making any investments. 


Risk Factors: Mutual Fund investments are subject to market risks, read all scheme related documents carefully.