How ESG is becoming a critical component in supply chain
The concept of companies as private players disassociated from society is no longer tenable. Today's global citizens have a strong awareness of climate changes, geopolitics, labour conditions and laws. This has compelled corporations to achieve their financial goals with a simultaneous focus on environmental and social performance.
Given the newer goals, corporations have come to realise that limiting their focus internally is not going to be sufficient. Environment, Social and Governance (ESG) teams are convinced that inputs from their supply chain are the dots that need connecting to better their overall ESG ratings. Thus, they have turned their sights to the sustainability aspect of the operations of their supply chain partners.
Sustainable Supply Chain Management (SSCM) is garnering a lot of attention to improve the standing of a company as a sustainable business. Studies indicate that supply chain could create higher social and environmental impact than a company's own operations.
Typically, Supply Chain sustainability refers to companies' efforts to consider the human and environmental impact of their products' journey through the entire supply chain, from raw materials sourcing to production, storage, delivery and transport.
Supply Chain companies derive benefits of improving the sustainability of their business by participating in the ESG exercise. Moreover, ignorance of ESG considerations in Supply Chain could exact a grievous price.
The estimated impact of greenhouse-gas emissions on Supply Chain is 80% more and possibly greater than 90% as opposed to that in internal operations. We can't be unmindful anymore of its far-reaching detrimental effects on air, land, water, biodiversity and geological resources.
The traditional mindset of Supply Chain Management has been restricted to managing cost, quality, time and vendor reliability. However, the new Sustainable Supply Chain Management (SSCM) mindset also incorporates considerations of:
Environmental impact
Natural resource utilisation
Raw material shortages
Safe working environments
Health of workforce
Labour considerations, including local laws and global expectations
Business ethics, avoidance of bribery and corrupt practices
Geopolitical factors
High ESG stakes in Supply Chain
While these SSCM considerations provide an opportunity to improve the overall ESG ratings and project the image of a sustainable business, a lack of awareness or mismanagement of any of these considerations also pose a risk that can have a serious impact on the Supply Chain.
Any SSCM misadventure has the potential to disrupt the entire business operation. In spite of these risks, an SSCM perspective is sadly lacking in most companies. A network of direct and indirect suppliers, vendors and subcontractors make it a seemingly insurmountable obstacle. But the time to scale the peak is here and now.
The risk of inaction today is obviously greater than the cost of action. The world is spending increasingly more on natural disasters. Unilever estimates that it loses some €300 million per year tackling these natural disasters, which consequently lead to higher food costs. Not too long ago, a drought impacted the produce of GrainCorp, Australia's largest listed agricultural business, by 23%, leading to a 64% drop.
Be it a tsunami or a hurricane, natural disasters disrupt global supply chains severely. Closed ports, terminated cargo flights, and paused deliveries create a ripple effect since businesses aren't able to procure the supplies they need on time and receive fewer shipments which, in turn, impact the customer.
The Tohoku earthquake that ravaged the northeast coast of Japan in 2011 wrecked the country's global supply chains completely. Consequently, Toyota lost its position as a global car producer, ceding the title back to General Motors.
In the Indian context, look no further than the 2015 Chennai floods. A study by Researchgate reads: "From the supply chain perspective, the aftermath of the rains and extensive flooding was a huge blow for the industrial activities in Chennai, which is home to outposts for multinational companies ranging from BMW and Ford Motor to Tata Consultancy Services and IBM. Major manufacturing units had to suspend operations with units either flooded or unable to operate due to inadequate workforce. The industry lobby, Associated Chambers of Commerce of India, estimated the overall economic loss from the flooding at over Rs. 15,000 crores. In other words, approximately 10-15% of the country's production was impacted in the month of November because of Chennai rains."
Lack of preparedness against natural calamities can bleed businesses dry. It's here that ESG rating agencies play a crucial role by assessing an organisation's resilience against natural calamities and capacity to find eco-friendly solutions to improve Supply Chain Management.
ESGRisk.ai rating and supply chain
Different ESG ratings agencies and governmental bodies have outlines for the scope of ESG in the Supply Chain. Organisations like ESGRisk.ai, India's first ESG rating company, assesses, measures and tracks every element in a company's Supply Chain. Through a strong rating methodology, organisations are evaluated on 19 themes including energy, emissions, water, environmental management, ESG reporting, human rights, community, shareholders' rights and, of course, supply chain.
An ESG score is arrived at that provides a summary of the company's ESG strategy, programmes, initiatives and results achieved in supply chain management. Broadly, the assessment is done on the basis of:
Are organisations supporting suppliers to adopt environmentally and socially friendly business practices?
Are businesses making most of the sustainability-linked funding?
Do they have the policy to include Supply Chain in their efforts to lessen the overall environmental impact?
Only sustainability has the power to sustain
It's undeniable that for all the checks and balances a business may deploy for its sustainability, it is always going to be as good as the sustainability of its suppliers and vendors. An eye on the sustainability of the supply chain could very well prove to be critical to the company's ability to sustain itself.
That the present and the future is being driven by individuals who care more about sustainability could be gauged by a survey conducted by Fidelity in 2019.
According to the study, 87% of the millennials indicated that they wanted to work in companies with high ESG ratings and 85% preferred to buy products made by companies that rank high on ESG parameters. Moreover, 43% of them wanted to invest in companies with a high score in ESG parameters. To put things in perspective this percentage was 12 percent for the baby boomer generation. The writing is on the wall, 43% versus 12%.
Any company that seeks to have a future, a sustainable future, cannot ignore this. An unfavourable ESG rating or perception could very well entail an impact on sales and even a disincentive for attracting new talent. Then there is the possibility of the worst corporate nightmare of reduced funding opportunities and a negative sentiment in the equity markets.
The inevitability of ESG in supply chain
It's rightly averred that ESG serves as a guideline by which supply chain management strategies must be built from bottom-line to top. In the recently-concluded ESG India Leadership Awards, organised by ESGRisk.ai, organisations such as Eicher Motors, TATA Communication Limited and United Spirits among others emerged winners for their sustainable and green supply chain practices. These firms have shown how ESG criteria serve as a guideline for environmentally friendly, socially acceptable and ethical supply chain activities, particularly in procurement, sourcing and supplier relationship management-related actions.
Times are changing and the need of the hour is socially aware and considerate companies that have lenses focussed on their supply chain to be a successful sustainable business.
Winner of ESG India Leadership Award in Supply Chain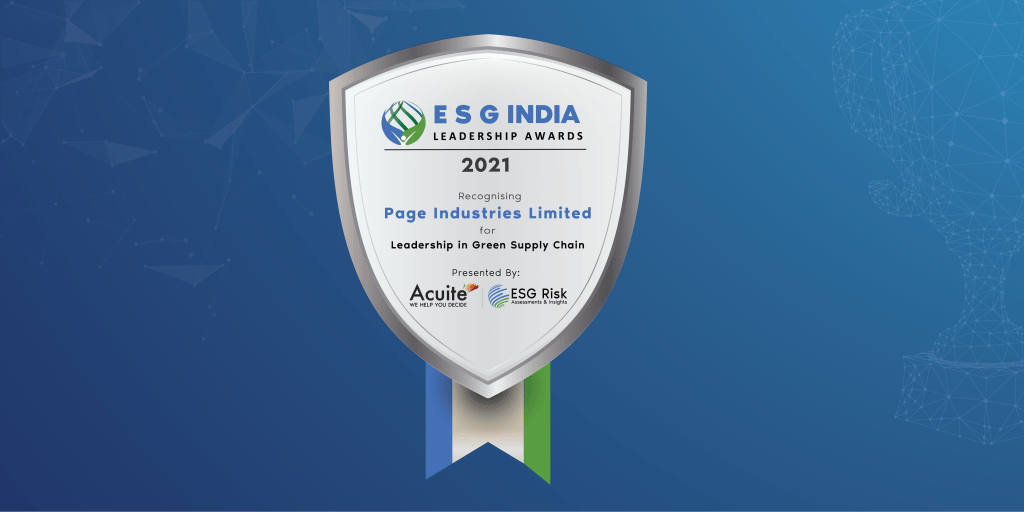 Glimpse of ESG India Leadership Awards