ESG analysis of cement industry 2021-2022
Sustaining the 'cementing' force
It remains the foundation of developing societies. A universal symbol of resilience that withstands climate changes, extreme temperature variations, rains, thunderstorms, mild earthquakes and what not. From the earliest civilisations to the 21st century, this centuries-old creator of structures has been a constant in our lives. We may take its presence for granted, but cement is the most consumed product by volume after water.
A world without cement is inconceivable even now. Think of a society without bridges, roads, schools, hospitals, highways, sidewalks, ports, dams and, of course, roof over our heads. This fine dry powder that sets, hardens and adhesively binds other construction materials like sand, gravel and pebbles is literally 'the cementing force' in our lives.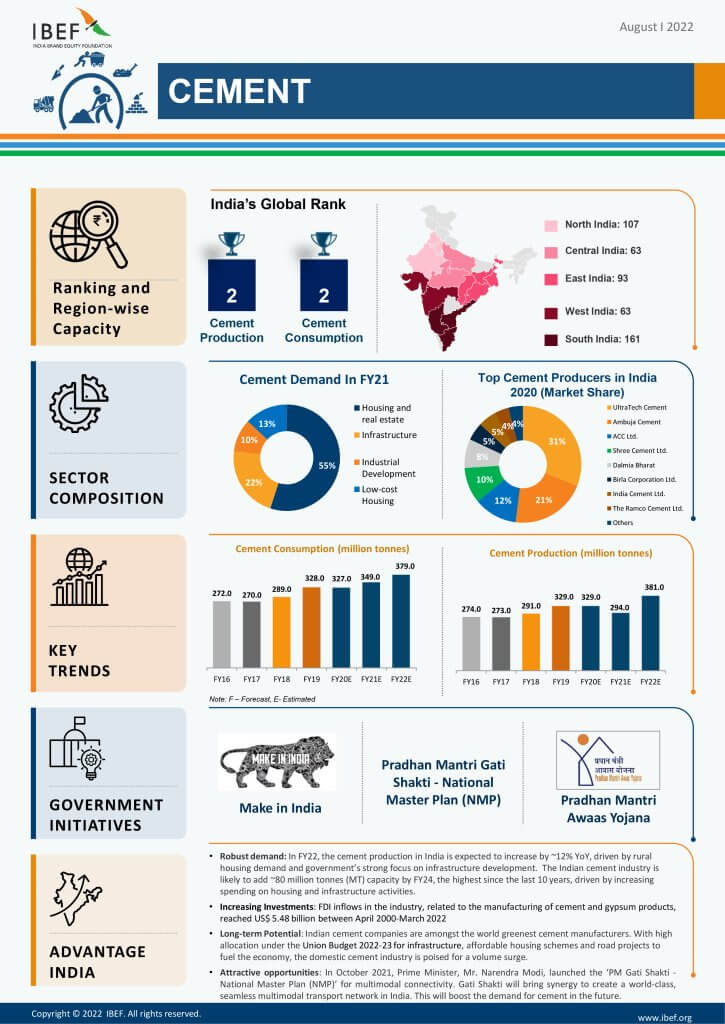 *Source: India Brand Equity Foundation(IBEF)
India is a cement surplus country. According to India Brand Equity Foundation (IBEF), India is the second largest producer of cement after China, accounting for more than 7% of the global installed capacity. IBEF's data further reveals that the installed capacity of cement in India is 500 Million Tons Per Annum (MTPA), with a production of 298 MTPA.
Thriving in a free market
Although the process was initiated earlier, India's cement industry was declared free for market competition in 1989, with the government withdrawing distribution controls and allowing 100% FDI. Only recently, Aditya Birla Group chairman Kumar Mangalam Birla was quoted as saying that India's cement industry, buoyed by increased spending on housing and infrastructure, is poised to add '80-100 million tonnes (mt) of capacity by 2024-25'.
But the burst of expansion has both rewards and downsides.
While the growth of the cement sector creates employment avenues and business opportunities, the negative impacts can't be papered over. It's undeniable that cement leaves a colossal carbon footprint on the environment. Cement not only adversely impacts the top fertile layer of soil but also harms biodiversity.
Some of the substances used in manufacturing cement cause serious health issues owing to their toxic and radioactive attributes. Accumulation of concrete dust during demolition of buildings – the bringing down of the two towers in Noida is a prime example – leaves humankind vulnerable to air pollution.
ESGRisk.ai's data reveals that cement is a poor performer in material issues of managing GHG emissions and energy efficiency, with an average score of 20% and 27% respectively.
Times are changing for the better. Many cement companies have introduced measures to reduce carbon emissions in their operations. Waste accumulated from the production of cement is used as an alternative inorganic raw material. Modernisation of plants ensure that levels of energy consumption due to cement is reduced.
Globally, the Cement Sustainability Initiative (CSI) is gaining momentum. The Reserve Bank of India (RBI) has said that a policy relook across sectors is due, especially where carbon emission is high. According to RBI, the cement industry was one of them . It's understandable why lending institutions, banks and governments are assessing environmental impacts of construction projects before deciding to commit funding.
The inevitable ESG influence
Expectedly, the Environmental, Social and Governance (ESG) factors are gaining prominence in the cement sector.
Fulfilling their roles as environmental stewards, cement companies are exploring sustainable alternative materials, attempting to reverse land degradation and identifying the best route towards decarbonisation. Green cement, produced with the help of carbon-negative manufacturing processes, has emerged as an eco-friendly product that can resolve serious environmental issues. Waste heat recovery systems are expected to help cement firms save on power generation costs. Also, there is evidence that emission reduction can be achieved by reducing dust from quarrying. Breakthroughs like replacing wet-kilns with the technologically-advanced dry-kilns have emerged to make the construction industry more energy efficient.
Many cement firms are taking their social responsibilities seriously by participating in regional affairs, implementing strong safety policies in their systems, and working for community well-being. According to ESGRisk.ai data, the industry is delivering efficiently on the key issue of community support and development with a score of 61%.
Since this industry is exposed to governance issues owing to complexities involved in different construction projects, the litigation risks are higher. Thus, honouring the core principles of governance – accountability, transparency and responsibility – several cement companies are reporting their ESG initiatives to win the faith of stakeholders. Furthermore, ESGRisk.ai reports reveal that cement and building materials companies have been scoring an average of 87% in the material issue of board independence and 71% in board diversity.
Recently, many Indian companies stepped up their ESG efforts to gain a competitive advantage in the market.
Dalmia Cement was the first company globally to commit to the Climate Group's RE100 campaign (100% renewable electricity use by 2030).
UltraTech, a member of the Climate Group's EP100 initiative, has set a target to reduce emissions by 25%.
Shree Cement is focused on minimising groundwater withdrawal, using renewable sources of energy and identifying alternative fuel resources in their operations.
Several reputed cement companies are turning to ESG rating agencies to improve their ESG ratings. For example, ESGRisk.ai, India's first ESG rating provider, assists cement firms in identifying gaps in their sustainability compliance. Not just that, ESGRisk.ai's risk assessment framework helps these businesses identify ways to minimise the environmental footprint in their operations and be more responsible with the use of energy, water and natural resources.
ESGRisk.ai's independent, dispassionate and futuristic ESG rating systems measure cement companies' performance among their industry peers. The ratings are constantly updated with new disclosures and by monitoring negative news concerning the companies. These ratings often become the means to reassure stakeholders that companies are following the highest ESG standards and care deeply about the socio-economic impacts of their operations.
To recognise sustainable Indian companies and celebrate their achievements in the ESG space, ESGRisk.ai launched ESG India Leadership Awards in the year 2021. The second edition of these awards was concluded in October 2022 and interestingly, 2 cement companies – Ambuja Cements and Shree Cements won in multiple categories.
Ambuja Cement Limited received 3 awards viz. Leadership in Environment, Leadership in GHG emissions reduction, and Leadership in Water Efficiency while Shree Cement Limited was recognised for Leadership in Energy Efficiency.
For a detailed understanding of award methodology and the cement industry insights you may download our yearbook: ESG Yearbook 2022
Although cement remains a top source of CO2 emissions, the industry is determined to achieve its sustainability potential. The changing mindset is evident in the way cement companies are focusing on alternative raw materials, unlocking the potential of green growth and pursuing technological advancements on route to decarbonisation. And they believe ESG rating institutions can steer them in the right direction.